25th Anniversary PASEsetter Awards Benefit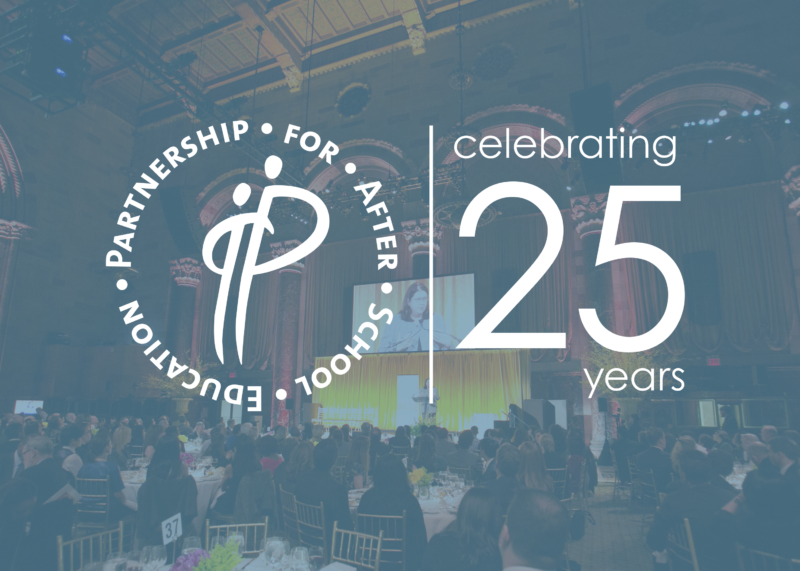 This event has already passed.
Check out photos and videos from the event.
On Tuesday, February 27, over 600 guests joined in celebrating PASE's 25th Anniversary and honoring those who have given outstanding service and leadership to our city's youth. The 25th Anniversary PASEsetter Awards Benefit honored five outstanding afterschool educators, as well as PASE's own Executive Director, Alison Overseth.
---
The event raised over $700,000, allowing PASE to promote and support high-quality afterschool programs throughout the city.
Thank you for supporting PASE and New York City's children!

PASEsetter Selection Committee
Wesner Pierre
Vice President for Education and Youth Development, CAMBA
Sanjiv Rao
Senior Program Officer, Youth Opportunity and Learning, The Ford Foundation
Kevin Roe
Associate, Exempt Organizations, Simpson Thacher & Bartlett LLP
Reeya Shah
Senior Associate, Strategy&
Desiree Vazquez Barlatt
Program Officer, The Teagle Foundation
Trish Walsh
Executive Vice President and Chief Legal Officer, Voya Financial
Benefit Committee
Neelum Amin · Ken Andrichik · Hannah, Peter, and Emily Bozian · Michele Cahill* · Jane Carlin and Martha Walker · Eda Chao · Cecilia Clarke · Emily and Eric, Ryan, and Scott deRegt · Susan Estes · Molly O'Neil Frank · Jodi Grant · Colleen and Pat Haskell · Scott Kelley · Janet Kelley* · M. Ismail Khan · Hope Knight and Steven Umlauf · Madlen and Harry Lengsfield · Eileen K. Murray* · Robert Oppedisano · Lois Perelson-Gross and Stewart Gross · Natalie D. Ramsey · Nancy and Robert Rosen · Katherine Shutkin · Mona Sinha · Gary and Susan Smith · Riley Williams* · Shelly Wimpfheimer · Katie Winter and James Shulman · Deborah C. Wright* · Rev. Dr. Alfonso Wyatt
*Former Afterschool Champion
2018 PASEsetter Award Winners
Mariam Aryai-Rivera, Art Start
Dina Brown, BronxWorks
Matthew Gonzalez, DREAM
Edwin Scott, Phipps Neighborhoods
Alicia Skovera, The Fresh Air Fund
2018 Afterschool Champion
Alison Overseth, PASE
---
Past Event

2018

Location

Cipriani's 42nd Street