2019 PASEsetter Awards Benefit
A Joyful Event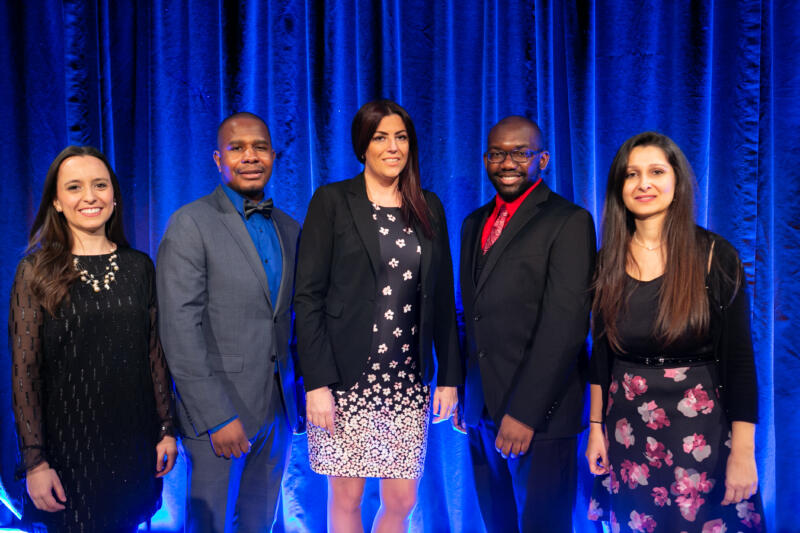 This event has already passed.
On Tuesday, February 26, over 600 guests joined PASE in celebrating those who have given outstanding service and leadership to our city's youth.
---
The 2019 PASEsetter Awards Benefit joyously honored five outstanding afterschool educators, as well as Scott M. Kelley, Founder & CEO of Aetos Capital Real Estate, LP as our Afterschool Champion.
The event raised over $730,000, allowing PASE to promote and support high-quality afterschool programs throughout the city.
Thank you for supporting PASE and New York City's children!
2019 PASEsetter Award Winners
Ayinde Alleyne, Bridge to Enter Advanced Mathematics (BEAM)
Hajnalka Gabris, Kingsbridge Heights Community Center
Rahson Johnson, Neighbors in Action
Danielle Madden-Buck, Police Athletic League
Maria Peña, Young People's Chorus of New York City
Marcia L. Smith, Honorary PASEsetter
2019 Afterschool Champion
Scott M. Kelley, Aetos Capital Real Estate, LP
Dinner Chairs
John Cahill · Ken deRegt · H. Merritt Lane · John Marion · Guy Metcalfe · Nancy Sanford · Hoke Slaughter · Owen Thomas · Robert Weaver
Benefit Committee
Emily Bozian · Hannah Bozian · Peter Bozian · Dennis Burns · Eda Chao · Emily and Eric deRegt · Bob Etherington · Colleen and Patrick Haskell · Jennie Held · Janet Kelley* · Nigel Key · M. Ismail Khan · Hope Knight and Steven Umlauf · Madlen and Harry Lengsfield · Richard G. Leone · Molly O'Neil Frank · Natalie D. Ramsey · Kevin Roe · Nancy and Robert Rosen · Edgar Sabounghi · Katherine Shutkin · Marcia L. Smith and Kenneth L. Andrichik · Susan and Gary Smith · Riley Williams* · Shelly Wimpfheimer
*Former Afterschool Champion

PASEsetter Selection Committee
Robert Baynard
Vice Chairman, J.P. Morgan Private Bank
Ilana Dell
Associate Manager, Brand Marketing, HBO, and PASE Junior Board Co-Chair
W. Cyrus Garrett
Deputy Director, MBK Alliance Communities, Obama Foundation
Matthew Gonzalez
DreamWorks Program Manager/College Access Coordinator, DREAM, and 2018 PASEsetter Winner
Kate O'Brian
Media Consultant, Former President Al Jazeera America, and PASE Board Member
---
Past Event

2019

Location

Cipriani 42nd Street

Address

110 E 42nd Street
New York, New York 10017