2018 Site Leader Training Institute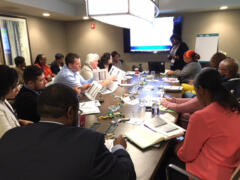 Site directors in afterschool programs often have skills at working with children and youth but little to no training in program operation and management. In order to build the best foundation for programs, the New York State Network for Youth Success will deliver training and support to site directors and leaders through the 2018 Site Leader Training Institute. Recommended for site directors and grant managers who are new to the field, to the role, or to a grant this institute will use webinars, in-person training, and video conferencing to help new leaders connect with best practices in afterschool, summer, and expanded learning programs. In-person sessions take place in Syracuse, NY and the Institute begins on July 11, 2018 with an orientation. There is a fee to participate. Visit the Network for Youth Success website for more information and to register.

Date Posted

July 2, 2018

Author

Tania Ortiz-Ashby

Category
Join Our Network
Get notified about new events and more as a member of our network.
Join Now