Advocates for Children of NY Report on Over-Age Middle School Students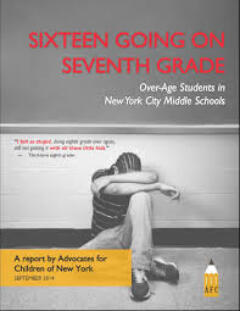 Advocates for Children of New York (AFC) recently released a report, Sixteen Going on Seventh Grade: Over-Age Students in New York City Middle Schools, to bring attention to the unique needs of over-age middle schoolers and to provide the New York City Department of Education (DOE) with recommendations for improving outcomes for this population. The report urges the DOE to act promptly to create and expand alternative program options for over-age middle school students. The report also recommends further revising promotion policies at all grade levels, making promotion appeals more accessible to families by creating an appeals form and designating central-based staff to assist in difficult cases, and fostering information-sharing by establishing central-based supports for schools serving over-age students. AFC also has a Guide for Over-Age Middle School Students, which informs families about the legal rights of NYC students and about programs for over-age middle school students.
Date Posted

November 14, 2014

Author

Katie Hanna

Category
Join Our Network
Get notified about new events and more as a member of our network.
Join Now