Free Spring Break Arts Intensive for Young Women in the Bronx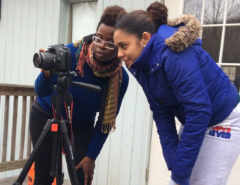 The Program for Girls & Young Women at New Settlement Apartments is now accepting applications for In My Words 2017, an incredible experience offered during NYC Public School Spring Break (April 10-15, 2017), that provides training in singing, poetry in performance, collaborative script writing and filmmaking, under the guidance of highly experienced women artists. Over six days, including a two-night artist retreat, participants develop their own short films, scenes, poetry and music with a focus on social justice, and they share these with the community in a culminating performance on April 15, 2017. Applications are due March 17, 2017. Enrollment is limited to 25 young women.
Date Posted

March 1, 2017

Author

j.leonard@newsettlement.org j.leonard@newsettlement.org

Category
Join Our Network
Get notified about new events and more as a member of our network.
Join Now