Point of Entry: The Preschool to Prison Pipeline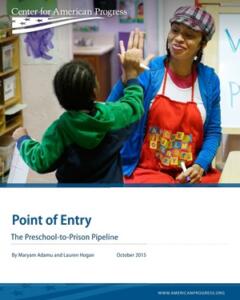 A new report from the Center for American Progress, Point of Entry: The Preschool to Prison Pipeline, highlights the trends around preschool discipline. Data from the U.S. Department of Education show that African American schoolchildren of all ages are over three times more likely to be suspended and expelled than their non-Hispanic white peers. According to the report, the practice of suspending and expelling children—particularly those younger than age 5—from early childhood settings can have profound consequences. The report provides recommendations and approaches to increase the protective factors available to ensure that young children stay in school and reap the full benefits of early learning while simultaneously supporting schools and teachers to actively resist the criminalization of African American youth.
Date Posted

December 15, 2015

Author

Tania Ortiz-Ashby

Category
Join Our Network
Get notified about new events and more as a member of our network.
Join Now