Within Our Reach - Report from The New York Equity Coalition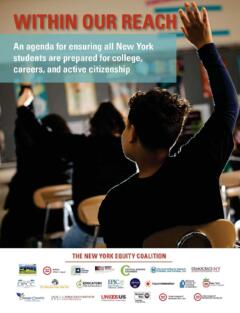 According to a new report, Within Our Reach, from The New York Equity Coalition, in schools across New York State, students— particularly students of color and those who are low-income—are too often denied opportunities to experience rigorous instruction across a robust set of course offerings that will prepare them for college, careers, and civic life. This report from a coalition of civil rights, education, parent, and business organizations reviews the data on access to instructional opportunities in middle and high school and offers a vision for college, career, and civic readiness for all New York students. There is also a call to action to New York's leaders to fulfill 5 Commitments to every student in the Graduating Class of 2025—a 5x25 agenda for success starting with the cohort of students who are entering sixth grade in fall 2018.
Date Posted

June 15, 2018

Author

Tania Ortiz-Ashby

Category
Join Our Network
Get notified about new events and more as a member of our network.
Join Now