PASE Lights Up Times Square!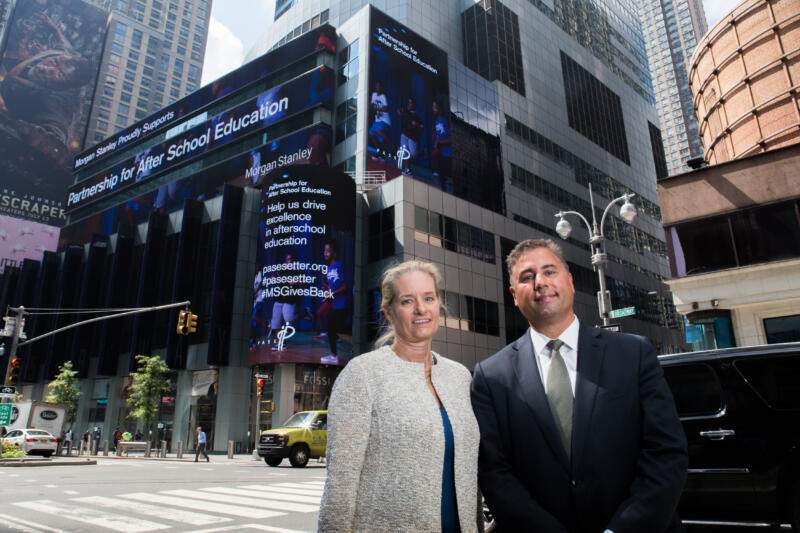 Morgan Stanley has selected Partnership for After School Education (PASE) to be a featured partner on their Times Square billboards as part of their Lights on Broadway program.
Through Lights on Broadway, Morgan Stanley features nonprofit partners on their digital jumbotrons, helping to build awareness for a variety of causes, and introducing the roughly 350,000 people who pass through Times Square each day to the incredible work being done by organizations throughout the city. PASE's billboards will be prominently displayed beginning September 1st through September 30th.
Starting September 1st, you can catch PASE's name in lights by visiting Morgan Stanley in Times Square on Broadway between West 47th and West 48th. Be sure to snap a selfie and share with us! #PASEsetter
Learn more about PASE and the importance of afterschool. Watch the video below.
"Morgan Stanley has long been a deeply valued partner in PASE's work. For years, Morgan Stanley has been one of our greatest supporters and has championed our mission, helping PASE to build brighter futures for the young people in New York City. We are honored by this opportunity and thrilled to be able to celebrate this partnership with the Times Square audience" said Alison Overseth, PASE's Executive Director.

Date Posted

August 29, 2018

Author

Anne Cleary

Category
Join Our Network
Get notified about new events and more as a member of our network.
Join Now