Reverend Dr. Alfonso Wyatt Honored With the 2023 Richard Murphy Leadership Award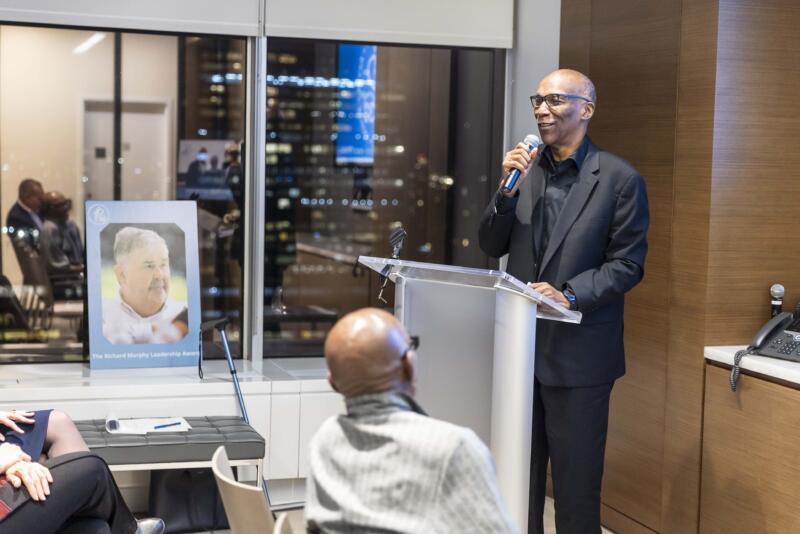 On November 15, the Partnership for After School Education (PASE) gathered education, youth development, and human services leaders from across New York City to remember Richard Murphy, former Commissioner of Department of Youth Services, and to honor Reverend Dr. Alfonso Wyatt, Founder of Strategic Destiny: Designing Futures Through Faith and Facts, with the 2023 Richard Murphy Leadership Award.
The Richard Murphy Leadership Award was established in December 2017 to honor the legacy of Richard Murphy, who was a champion of the youth of New York City and nationwide. The award is given to individuals who have made extraordinary accomplishments in the field of youth services, and who exemplify the intelligence, enthusiasm, and devotion to the children and youth of New York City that Murphy embodied.
Wyatt, who was a close collaborator of Murphy, is a youth development leader, public speaker, educator, organizational development consultant, executive coach, and public theologian. He serves as an advisor and consultant to government, colleges, civic groups, community-based organizations, schools, foundations and the broader faith community. Wyatt brings a relevant message of hope and perseverance to sacred and secular communities, both locally and nationally.
The evening included reflections from Wyatt's longtime colleagues and peers in the public education and nonprofit sectors, as well as moving testimonials from two of his countless mentees. Common threads across the remarks included Wyatt's commitment to supporting future generations and his ability to reframe the broader societal narrative around children and youth of color.
"Sometimes when we talk about young people, we talk about the numbers, but we don't talk about what is behind the numbers. Alfonso was one of the early leaders in this movement to talk about what was behind the numbers: who are the young people that we're working with and what is their story," said Chancellor of the New York State Board of Regents, Dr. Lester W. Young, Jr.
Notably, the room was filled with dozens of individuals who consider Wyatt a formative mentor, many now serving in key roles across New York City, including in the education and human services fields, local government, and the philanthropic sector.
Dr. Aldrin Rafael Bonilla, Executive Vice President for the Fund for the City of New York and one of Wyatt's many mentees, noted that Wyatt was key to his understanding that success is "not in material things, but in being significant and in being of service to others."
"It is PASE's distinct honor to present this award in recognition of all Reverend Dr. Alfonso Wyatt has given to New York City: generations of mentees, generations of youth workers, and generations of leaders," said Alison Overseth, PASE Chief Executive Officer.
Date Posted

November 17, 2023

Author

Jennie Morrison

Category
Join Our Network
Get notified about new events and more as a member of our network.
Join Now