Cultural Institutions Guide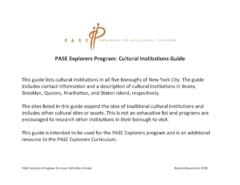 This guide lists cultural institutions in all five boroughs of New York City. The guide includes contact information and a description of cultural institutions in Bronx, Brooklyn, Queens, Manhattan, and Staten Island, respectively.
The sites listed in this guide expand the idea of traditional cultural institutions and includes other cultural sites or assets. This is not an exhaustive list and programs are encouraged to research other institutions in their borough to visit.
This guide is intended to be used for the PASE Explorers program and is an additional resource to the PASE Explorers Curriculum.
In order to access this resource you need to create an account or login first.
Date Posted

November 2018

File Type

pdf

Source

Resource Type

Initiative
Join Our Network
Get notified about new events and more as a member of our network.
Join Now