PASE Post Issue 1 December 2018

Welcome to our inaugural edition of PASE Post!
As 2018 comes to a close, we wanted to take a moment to reflect on our 25th Anniversary year. Over the past year, we gathered our community for deeply resonant discussions on issues impacting our youth, expanded our learning opportunities, and celebrated leadership and excellence in the field. Thanks to everyone who helped PASE celebrate our 25th Anniversary – we are so grateful to have each and every one of you as partners, collaborators, and supporters in our work, and we look forward to the next 25 years together. We hope you enjoy PASE Post and we look forward to working with you to ensure brighter futures for our city's youth!
Wishing you good health and happiness in 2019,
Alison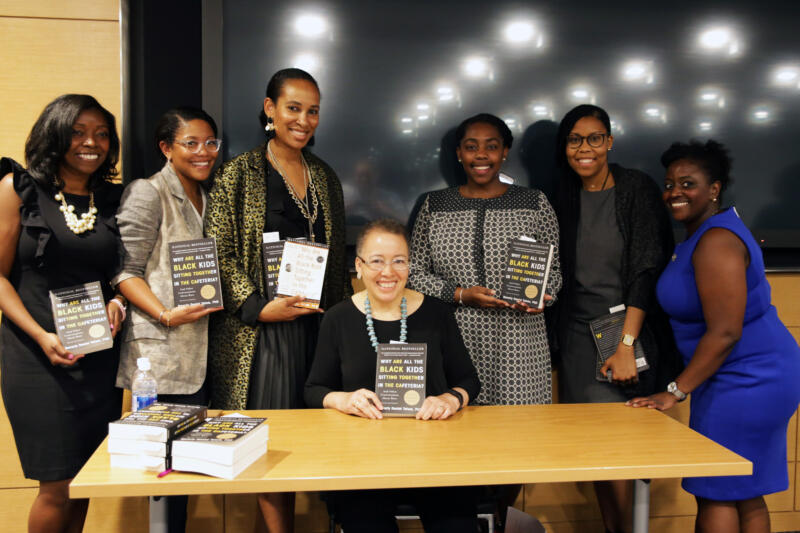 An Evening with Dr. Beverly Daniel Tatum
To kick off our anniversary celebrations, PASE hosted Dr. Beverly Daniel Tatum, President Emerita of Spelman College and acclaimed psychologist and author, for a powerful discussion in honor of the 20th anniversary of her best-selling book, Why Are All the Black Kids Sitting Together in the Cafeteria? And Other Conversations About Race. To view Dr. Tatum's lecture, click here.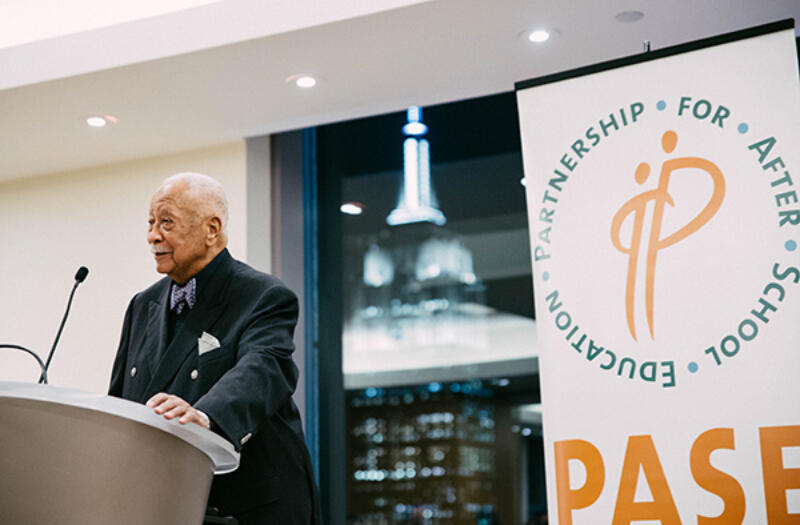 Honoring Mayor David Dinkins with the inaugural Richard Murphy Leadership Award
PASE was honored to present the inaugural Richard Murphy Leadership Award to the 106th Mayor of New York City, The Honorable David N. Dinkins. PASE established the annual Richard Murphy Leadership Award to honor the legacy of Richard Murphy, a social policy innovator and tireless advocate for young people, who served as Commissioner of the Department of Youth Services (the predecessor to the DYCD) under Mayor Dinkins. To learn more about the award, click here.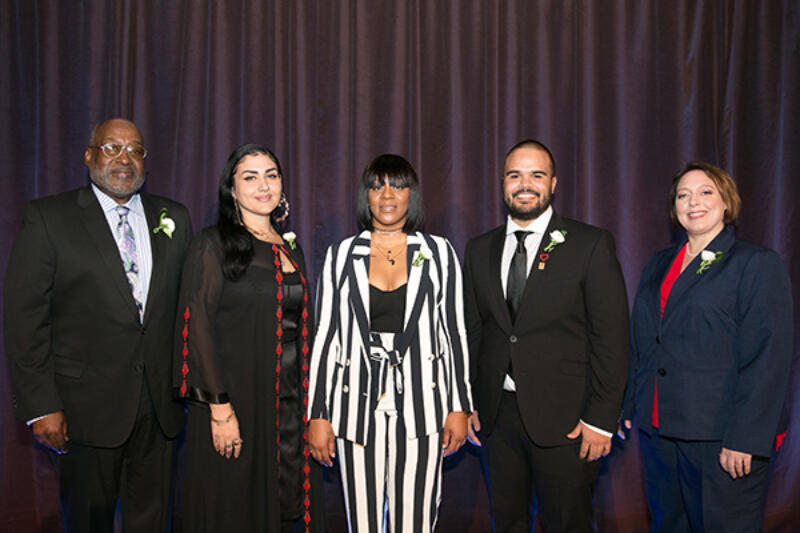 25th Anniversary PASEsetter Awards Benefit
In February, over 600 guests joined in celebrating PASE's 25th Anniversary and honoring those who have given outstanding service and leadership to our city's youth. The 25th Anniversary PASEsetter Awards Benefit honored five outstanding afterschool educators, as well as PASE's own Executive Director, Alison Overseth. See photos and video from PASE's 25th Anniversary Gala here.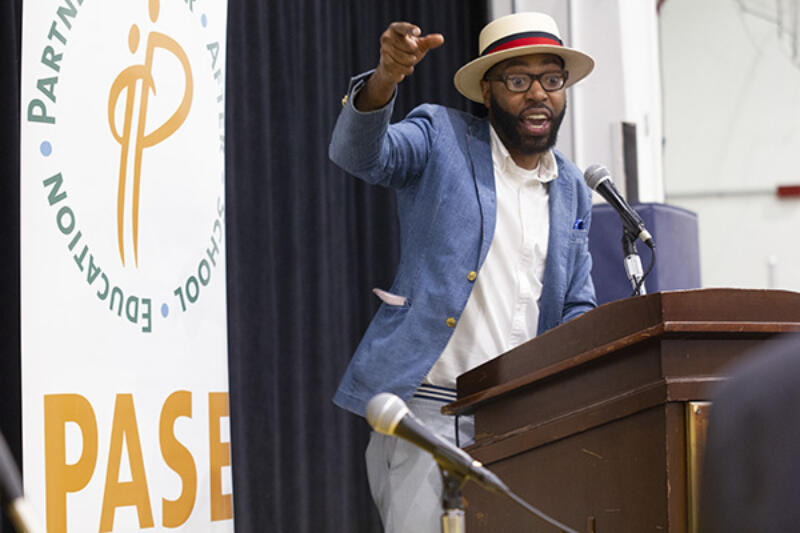 PASE@PACE
PASE welcomed more than 380 afterschool leaders, educators, and other stakeholders in afterschool to our annual day-long PASE@PACE conference featuring innovations from the field. This year, the event featured 43 engaging workshops, 25 exhibitors, and keynote speakers Dr. Christopher Emdin, author of For White Folks Who Teach In the Hood and the Rest of Ya'll Too, and Lisa Skeete Tatum, CEO and Co-founder of Landit. A special thank you to Council Member Mark Treyger for his welcoming remarks and to Pace University's School of Education for once again partnering with us to make this conference a reality. Click here to see photos and more from this year's conference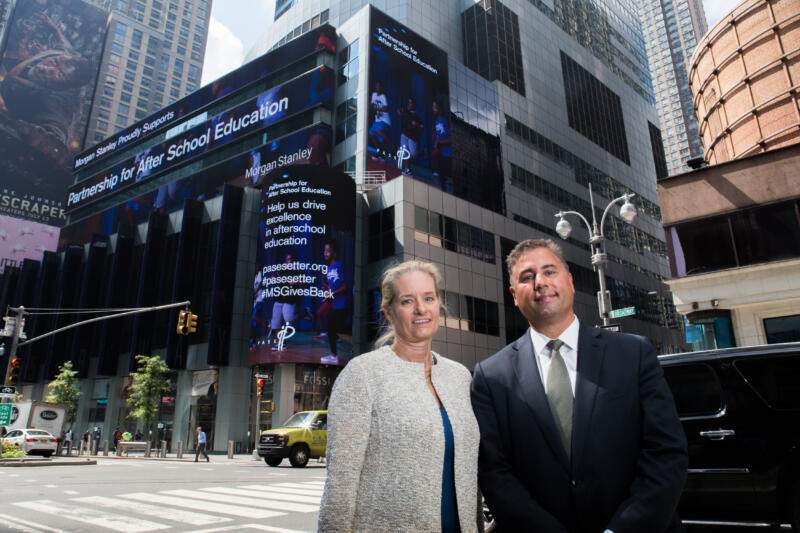 PASE Lights Up Times Square!
Morgan Stanley selected PASE to be a featured partner on their Times Square billboards last month. Through the Lights on Broadway program, for the entire month of September, PASE was featured on Morgan Stanley's digital jumbotrons, introducing the roughly 350,000 people who pass through Times Square each day to our organization and helping to build awareness for our mission. Click here to see photos and learn more about Lights on Broadway.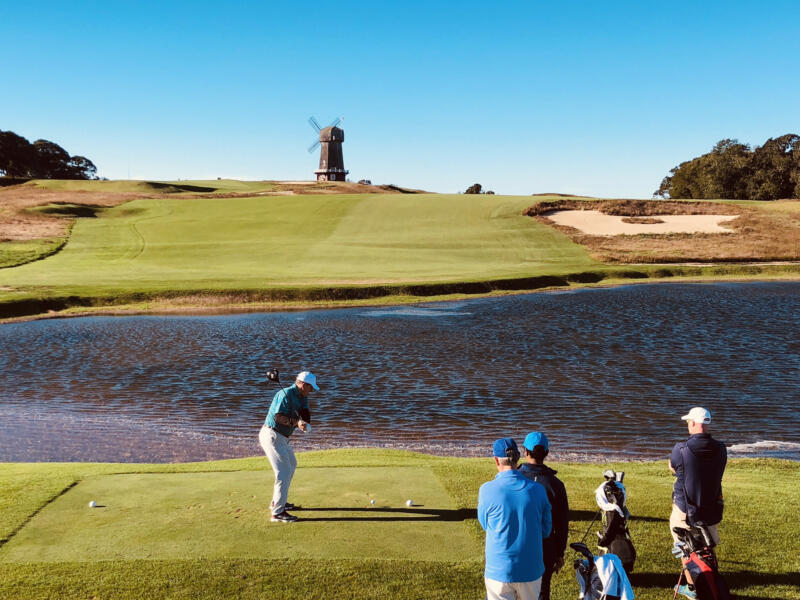 Golf Outing
A giant thank you to our dedicated golfers who generously supported PASE through the two-day golf outing at National Golf Links of America!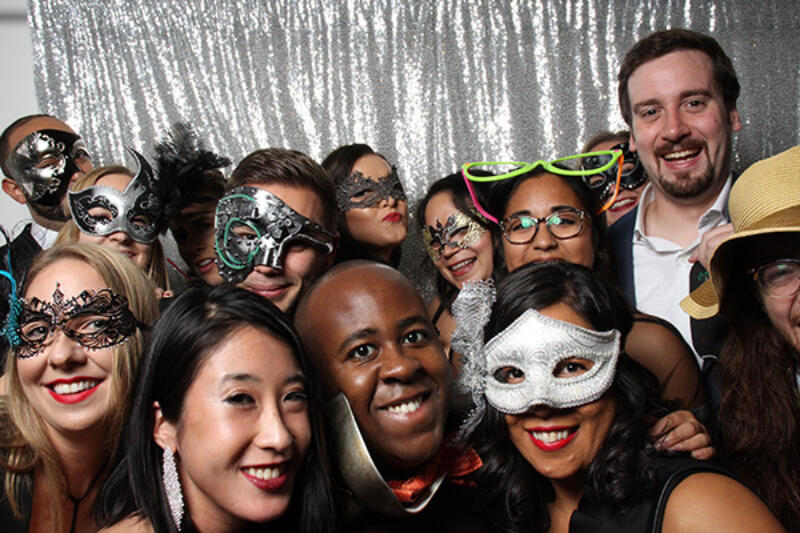 PASE Masquerade: Drinks, Dancing, and Disguise
PASE's marvelous Junior Board hosted the first annual PASE Masquerade. Over 150 young professionals gathered at Metropolitan Pavilion for a fun-filled night of drinks, dancing, and disguise to support quality afterschool programs. Click here to learn more about our sponsors and view photos from the event.
We hope to use this newsletter to keep you informed about our successes and innovations. As a network of incredible afterschool organizations, we recognize that our accomplishments reflect the powerful work within the community. We look forward to uplifting the invaluable role that afterschool programs fill in New York City.
Date Posted

December 21, 2018

Author

Tania Ortiz-Ashby

Category
Join Our Network
Get notified about new events and more as a member of our network.
Join Now